Cutting-edge solutions for greater peace of mind.
When it comes to drivers and occupants alike, staying safe is what matters most of all. Along with pioneering a range of safety innovations over the years, Mercedes-Benz, as well as our Certified Collision Centers, are committed to providing the highest level of care and attention before, during, and throughout the restoration process.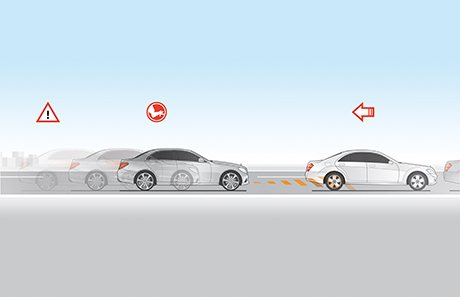 PRE-SAFE® Brake
Integral Safety Concept
A guardian angel on the road. The Mercedes-Benz Integral Safety Concept.
In order to provide the most comprehensive protection, the Integral Safety Concept consists of four unique phases.
Safe driving. With technological advancements, including Crosswind Assist and Distance Pilot DISTRONIC® with Steering Pilot, this phase provides drivers with additional support and security. 

In the event of danger. Features equipment, such as Active Brake Assist, to help anticipate and activate protective measures in the event of danger. 

During an accident. To provide optimum protection, innovative, coordinated sensors are activated in the vehicle's body and restraint systems, including the airbags. 

After an accident. Depending on the type and severity of the accident, certain measures - such as automatic engine shut off or unlocking doors - can be instantly implemented.
Intelligent Drive
Groundbreaking -- and lifesaving.
While drivers are ultimately in control of their vehicles, we are always looking for ways to help them avoid potential hazards or react to specific situations. Intelligent Drive combines a wide range of advanced safety technologies into four distinct categories, including:
Assisted Parking Systems

Rearview Camera. Switched on when the reverse gear is selected, it displays the area behind the vehicle. For some models, it also includes guidelines to help drivers assess available space for backing up.

Parking Pilot/Active Parking Assist. Helps control steering, gear selection, gas, and braking so drivers can park their vehicles in parallel or perpendicular spaces.

PARKTRONIC. Uses sensors in bumpers and provides an audible warning if a vehicle gets too close to obstacles or other vehicles when parking.

Surround View System. Features a display with a simulated birds-eye view to show all sides of a vehicle and the nearby surroundings.

PARKTRONIC. Uses sensors in bumpers and provides an audible warning if a vehicle gets too close to obstacles or other vehicles when parking.

Collision Mitigation and Safety Systems

Evasive Steering Assist. Allows drivers to execute turns should the sensor and camera systems detect pedestrians in their vehicles path.

Active Brake Assist/Active Brake Assist with Cross-Traffic Function. Audibly and visually warns drivers of potential collisions, and applies proper brake force if necessary.

PRE-SAFE® Impulse Side. After detecting an imminent side impact, it moves the front occupant on that side away from danger toward the center of the vehicle.

PRE-SAFE® Sound. Sensing an imminent impact, this audio system generates "pink noise" to reduce the effects of loud, harmful sounds to the ear canal.

PRE-SAFE®. Helps ensure occupant protection and is activated in an unavoidable collision.

PRE-SAFE PLUS. Uses radar to continuously monitor traffic behind a vehicle. It can also activate preemptive measures to protect occupants if it detects an imminent rear-end collision.

Night Driving Systems

Night View Assist PLUS. Helps recognize pedestrians or large animals on the road.

Active LED Headlamps/LED Intelligent Light System. Both designed to adjust to the curve of a road for increased visibility.

LED Headlamps. Provides a bright beam that more closely matches daylight.

Driver Assistance Systems

Active Speed Limit Assist. Lets drivers set and regulate speed in respect to posted limits.

Distance Pilot DISTRONIC®/Active Distance Assist DISTRONIC. Helps drivers maintain selected distances between their vehicles and ones in front of them.

Active Emergency Stop Assist. Can detect if a driver is not in control, and safely decelerate a vehicle to a complete stop.

Active Lane Change Assist. After signaling a lane change for at least two seconds, it helps steer a vehicle into the adjacent lane on a multi-lane highway.

Crosswind Assist. Makes driving in severe, gusty winds easier by using sensors to detect lateral movement of the vehicle. Should the vehicle be pushed off-track, it uses one-side braking to course- correct.

Blind Spot Assist/Active Blind Spot Assist. Monitors areas that a driver cannot fully see in mirrors, and displays an icon in the side mirrors if an object is detected.

ATTENTION ASSIST®. Tracking over 70 variables, this system helps determine when a driver is becoming tired or inattentive.

Lane Keeping Assist/Active Lane Keeping Assist. Generates steering vibrations to warn drivers if it senses their vehicles are drifting out of their lane unintentionally.

Car-to-X Communication. Along with alerting driver to potentially dangerous situations immediately, it exchanges information with other models in the surrounding area that are also equipped with this cellular technology.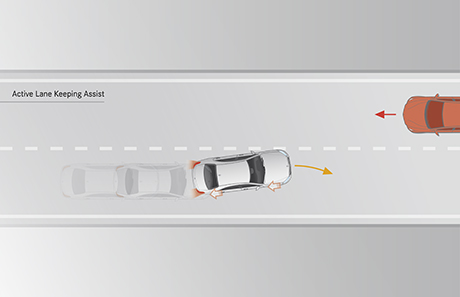 Active Lane Keeping Assist